Why Choose electric underfloor heating?
There are many great reasons why you should choose an Electric Underfloor Heating System to heat your home:
Comfy even temperature
Energy efficiency
No draft or warm air currents (which can stain decorations above radiators)
No issues for people with hypersensitivity
Fewer dust particles circulate with potential health benefits for asthma or respiratory sufferers
Suitable for use with all types of finish flooring
Suitable for use on all floor constructions and subfloors
No longer any humidity or dry air
Can be used as a primary heat source
Warm floors underfoot give a more comfortable, luxurious feeling
Maintainance Free - no repair cost and time spent doing this
State-of-the-art heating systems
Underfloor heating will add value to your home
Lasts the lifespan of the room
Below we have elaborated on some of the benefits...
Wholesome and dirt-free:

Heat is distributed equally throughout the entire floor space instead of just focussed at radiators. Hence, you get a comfier temperature for yourself regardless of where you are in the room.
Underfloor heating generates less air movement therefore less dust flecks are hovering around. This is fantastic for anybody that suffers with allergies.
The carpets will remain dry at all times because the heat comes from the floor. The chance of getting bugs and the growth of bacteria in bathrooms is hugely eradicated.

Any kind of moisture from damp shoes, clothes and umbrellas in the hall way and laundry areas will dry up quickly, which is particularly advantageous during winter months and cold periods.
Underfloor heating cables are a lot smaller compared to water pipes and don't have to be fitted as deeply into the floor. So, floor heating installation is no way near as invasive and has less installation issues and impairment.

Invisible heating:

With underfloor heating the heat source is invisible. Without radiators blocking up walls, you don't have to compromise on the décor and design of your room or on the furniture layout that you want. You start with a cleaner, more stream-lined room.
With no moving parts involved in floor heating, there are no creaks or groans especially on solid floors, so no more scary noises in the night.

Secure heating:

This type of heating is especially child friendly because there aren't any warm surfaces and sharp corners to cope with.
There are no water pipes used, therefore there are no risks of leakages so you will not have to be concerned about destruction to your house or bother with any insurance claims.

Cash saving:
DIY underfloor heating is straightforward and simple to install and doesn't involve difficult parts. You don't need to hire costly engineers so the expenditure is not high. Each electric connection has to be done by a suitably qualified individual.
There are no continuing costs because there are no parts that move that undergo any wear and tear to.
Electric floor heating is capable of being fitted close to floor surfaces; therefore it heats the room up a lot quicker. This means that it is inexpensive and you're able to get comfy more quickly.
You're able to have under floor heating in the number of rooms you want plus on any kind of floor. It's a great choice if you want to be flexible and use electric floor heating in combination with other heating systems that exist already. Alternatively, it's also good if you intend to bring in floor heating inside your house on a step by step basis so that you can spread the cost.

Energy saving:

Floor heating generates optimal heat circulation all over the room. This means you're able to reduce the temperature by 2-3 degrees and continue to maintain a cosy room temperature plus make savings on your electricity bills.
Underfloor insulation can bring you extra energy savings up to 15%. A sensible thing to do as energy bills are always increasing and you can help the environment.
Each room temperature can be regulated quite simply with individual floor heating thermostats. Therefore, you have greater flexibility in controlling the heating in your own house.
How does it work?
Electric systems are just used for heating and utilise adaptable heating components that do not erode, plus cables, pre-formed cable mats, bronze mesh and carbon films. They are capable of being fitted in a thermal mass or exactly under floors because of their low outline.
Electric systems can make the most out of electricity meters and are regularly utilised to heat:
Carpet Floors
Vinyl Floors
Laminate Floors
Tiled Floors
Wood Floors
Shower Floors
Electric systems are much easier to fit and contrast compared to Warm Water Systems. Certain electronic systems utilise the voltage provided by a power line at the point of usage, whilst others utilise the voltage less than the required voltage to work a device or circuit. An electric systems power usage is based on wattage output generated by the heating part and not the voltage itself.
It has very quickly been accepted that Electric underfloor heating is an incredibly reliable and cost-effective way of warming offices and homes. Nowadays, it provides the best possible comfort settings, in addition to being very economical too. Actually, electric systems are able to help you to meet the energy saving obligations of Part L of the Building Laws. Moreover, certain thermostats and our insulations boards can increase the likely energy savings by a further 20%.
You may also like...
Thought about fitting a floor?
We can save you the hassle...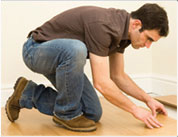 Floor Fitting Service
Call us free
0800 756 6862
We'd love to hear from you