When you call us on our Free 0800 756 6862 number, we'll take a brief description of the job including your name and contact details. At this initial point, we'll discuss drawings, heating and flooring options; and arrange a free site visit to measure up. Here's how it works:
Estimates usually ready within 72 hours
We use drawings and measurements to calculate the estimate for your electric underfloor heating. If you're making use of our complete heating and flooring service then we'll provide you with a further quote for fitting any finish flooring.
1. Supplying and fitting your electric underfloor heating to fully-accredited standards
2. Supplying and or just fitting your finish floor and making those finishing touches
Get your free estimate now
Getting started on your project
When we get the green light, you're not only getting the benefit and expertise of a leading underfloor heating company, you're also guaranteed that we'll stick around until the job's done, because we only work one job at a time.
We are so confident in our work we give all our clients a 1 year guarantee on our underfloor heating & flooring installations
We start work between 8am and 9am depending on where the project is located
You'll recognise us, we'll be wearing dark Carbon Heat branded work gear
A clean job is a happy job
Before starting work we begin by laying out dust sheets in and around the areas where we'll be working. We usually cover from the entrance of a property right through to stop any dirt and mess from settling on your furniture or damaging your floor coverings.
We Install Electric Underfloor
Heating Step by Step.
Electric Underfloor Heating

What we do...
Step one: Preparing & Insulating
Preparation Work We get started by stripping back your old flooring to the sub-floors below, your floors may in some cases need some additional work to get them ready for your installation. This can include overlaying wooden floors with either a fibre reinforced screed or a layer of 9mm plywood to create a flat solid surface. When working with concrete floors they may need to be levelled using a self-levelling compound.
Insulating the Sub-Floor When installing insulation below wooden floors the boards are simply cut and laid in place in a staggered brick formation. boards should be taped at the edges using a heavy duty adhesive tape.
When installing insulation boards below floor tiles the insulation is usually installed to the subfloor using a flexible floor adhesive with a 3-6mm trowel notch. Simply cut and laid the boards in place in a staggered brick formation, boards should be taped at the edges using a heavy duty adhesive tape.
Step two: Heating Installation
With the floors insulated and now ready, we'll test the system to check its working in according to the manufacturer's guidelines. The underfloor heating system is then fitted to cover the maximum area of the floor, usually deducting between 10-15% from the overall floor area to provide a gap around the perimeter of around 50-100mm for skirting or beading. We'll then install the probe for the thermostat, which is usually positioned 2m into the floor and is connected to the thermostat. We may have to drill into the floor and up through the wall to feed cables through. Or we may have to chisel a check into concrete walls
This isn't always the case though and we always aim to limit any unnecessary damage to any walls.
Step three: finish Flooring
Once the heating system is fully installed the system is tested again and if you have decided on one of our many cable systems, which are used below tiled floors then it's now ready to be screeded with a 5-6mm screed. Once the floor is dry we will test the system again.
If you're fitting tiles over the system then, rather than screed the floor, the tiles can be fitted directly over the cable. Once either the tiling or screed is complete the electrical engineer will connect the system to the mains.
Please note: cable systems under tiles need 21 days before they can be switched on, this is to allow the concrete based tile adhesive to properly cure. You may however be using a carbon underfloor heating system which is used below wooden, carpet and luxury vinyl flooring, in which case the screed is not required as the system is completely dry laid with no adhesives required.
Please note: carbon systems used with carpet or vinyl flooring will require Dual overlay boards which are fitted over your underfloor heating system, they act as a barrier between your heating and your flooring providing a solid surface which is suitable for carpet or vinyl flooring which may need for example grippers or fitted using a glue.
Once the floor is ready to switch on, we'll program the thermostat and provide you with easy instructions on how to program the settings
Your 10-year guarantee All our electric underfloor heating systems come with a 10 year manufacturers guarantee, once your project is complete simply fill in your guarantee and store it beside your fuse board for future use should you need it.
View Our Electric Underfloor Heating Kits
What we offer
Full project management
Flexible approach
Value-for-money
Friendly service
We work one job at
a time
Once the job's started we'll be there until it's finished.
Thought about fitting a floor?
We can save you the hassle...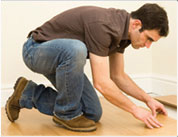 Flooring
Fitting Service
Call us free:
0800 756 6862
We'd love to hear from you
Thinking of installing an electric underfloor heating system yourself?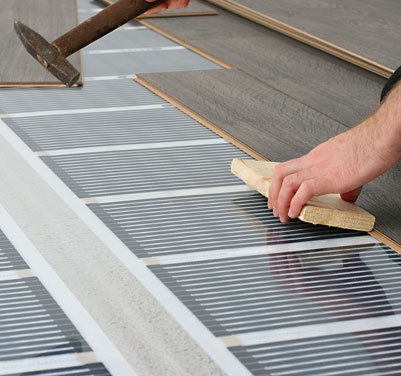 Installation techniques for installing electric underfloor heating mats, cables and carbon underfloor heating systems are all quite similar. Installation instructions are provided with all our underfloor heating systems.
View our types of electric underfloor heating
Preparing
Some underfloor heating systems require cement based adhesives. It's recommended that you begin by applying a sealer or primer to the subfloor prior to applying adhesives. Please make sure before any work begins that the floor area is clean and dust free.
Adhesive
Each installation technique follows the basic plan of adhesive applied to the subflooring followed by insulation placed on top of the adhesive. The underfloor heating system, whether it's underfloor heating cables or an underfloor heating mat, is then laid over the insulation. This is followed by another layer of adhesive upon which tiles or stones are laid.
You may however be using a carbon underfloor heating system which is used below wooden, carpet and luxury vinyl flooring, in which case the system is completely dry laid with no adhesives required.
Measuring
The first step of any installation is correctly measuring the area to be heated. You should avoid all permanent fixtures and avoid blocking the heated area so heat will not build up and damage the floor. From the total area you are planning to heat, you should deduct ten percent to allow for the perimeter of the room.
Insulating
Tiled Backer Boards: you begin by applying tiling adhesive over the subfloor and place insulation on top of the adhesive. Apply pressure to the boards to guarantee they are fully bedded into the adhesive. Tape or feathers finish the edges to create a flat surface.
Depron Boards: lay the boards over a clean dust free subfloor, covering the full floor area. Once the boards are laid, tape all edges using a heavy duty waterproof adhesive tape.
The insulation will provide a barrier between the subfloor and heat source, thereby improving the performance of your floor heating, speeding up the initial warm up times and save money on electricity costs. The thicker the insulation, the better.
Electrics
Once the electric underfloor heating cables, cable mats or carbon system has been laid over the insulation, a qualified electrician must hook up the electrical components of the cables and the mat to a circuit box.
This is not something you should try to do yourself as the law requires a professional electrician to complete the electrical work.
Get A FREE Estimate From Us Today
Contact Us Now
View our types and range of electric underfloor heating
View our types and range of warm water underfloor heating