Lower operating temperatures - make's it cheaper to run compared to a central heating system because the water is used at a lower temperature whilst providing a superior heating experience.
Floors will dry off faster in damp zones like the bathroom, shower rooms, kitchen as the gradual heat will make water evaporate through the extractor fan or windows.
Reduce your carbon emissions as underfloor heating uses less electricity than radiators and coupled with an energy efficient heat supply can prove very eco friendly.
Accurate digital thermostat room controls gives you a lot better programming options than your standard thermostat.
More comfortable floors. With warm water underfloor heating your floors will be more comfortable to walk on and feel luxurious. This is even more so with tiled floors which can otherwise be very cold and unwelcoming to walk on in the winter time.
Add value to your home: homes with underfloor heating will likely sell before an equivalent home without them. More first time home buyers are considering the idea of using underfloor heating.
Enjoy a more even heat throughout the room as heat rises from the full floor area creating a more naturally heat. Radiators are less effective as they circulate air until it cools and potentially creates a draft.
Better for rooms with high ceilings. With a radiator as heat rises, the further from the radiator it goes the more it cools leaving the room colder than with underfloor heating. Underfloor heating emits heat from the full floor area targetting the full room with gradually rising air.
Internal design freedom - No bulky radiators getting in the way of any furniture, wall fixtures or space management ideas.
No warm 'air currents' (which can stain decorations above radiators).
Fewer dust particles and condensation circulate with potential health benefits for asthma or respiratory sufferers
Avoid overly 'dry' air that is created by radiators.
Maintainance free: Quality underfloor heating systems can last more than 25 years and with modern developments experienced very few problems.
Cool off feet!: A less known benefit of water underfloor heating systems is that cold water can also be circulated through pipes cooling off floors in warm summers and leaving them at just the right temperature to avoid moist feet!
How does it work?
Water based underfloor heating systems work by pumping water around all the plastic tubes that have been inserted into the floor. There are several options to warm up the water, like an air supply heat pump, or solar power and more. When utilising an underfloor heating system, the heat is distributed equally throughout the entire area's surface minus the usage of a conventional radiator.
A water based underfloor heating system uses water that is heated at a lesser temperature - usually 50°C instead of 60° or more, which is what a standard water central heating uses. This means it's perfect to utilise with a high efficiency condensing boilers, heat pumps or solar water heaters.
You may also like...
Thought about fitting a floor?
We can save you the hassle...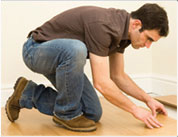 Floor Fitting Service
Call us free
0800 756 6862
We'd love to hear from you