Bamboo Flooring Edinburgh, Glasgow, Scotland

A Touch of the Exotic All the Way from the Orient
Bamboo isn't really a wood; it's a grass. It's remarkably sturdy and multimultipurpose. It is utilised for many things in Asia ranging from overpasses, scaffolding and boats. Nowadays, Bamboo flooring that has been engineered is mass - produced from strips of bamboo and it's obtainable as an extremely beautiful floor item in two varied designs: Natural and Coffee shade in both upright and flat laminations.
Engineered bamboo flooring is produced in mass from strips of bamboo. These have been cut and are coated together with plastic either in an upright or flat position to create floor boards.
Afterwards, a machine is used on all four sides with a mortised joint constructed by fitting a projection on the edge of one board into a matching groove on another board. These boards can be obtained in a natural or coffee colour; it is a carbonisation procedure creating a stunning, feasible and resistant to wear and tear floor covering that is capable of being either fastened or glued down.
Warwick
Horizontal & Vertical Laminations

Example of a type of bamboo floor
Engineered Bamboo flooring is manufactured from cut strips of bamboo that are laminated together either vertically or horizontally to make floor boards.
The boards are then machined around all four edges with a tongue and groove joint.

Example of a type of warwick bamboo floor
These boards are available in either Natural or Coffee which is a carbonisation process making a beautiful, practical and hardwearing floor covering which can be either stuck or nailed down.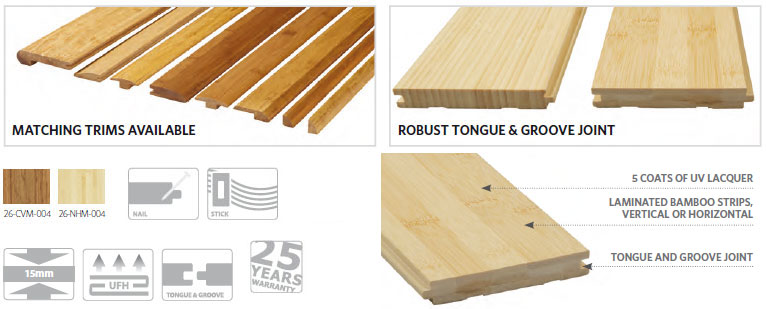 Warwick Bamboo Trims & Joint System
Style Bamboo
Stylish Yet Sustainable Strand Woven Bamboo
Example of a type of style bamboo floor
Strand woven bamboo flooring is a natural product derived directlyfrom the Culm (stem) of the plant, which grows wild in the mountainous regions of China.

Example of a type of style bamboo floor
Bamboo is an environmentally friendly, rapidly renewable resource. It is self regenerating and grows to full maturity within 5 years.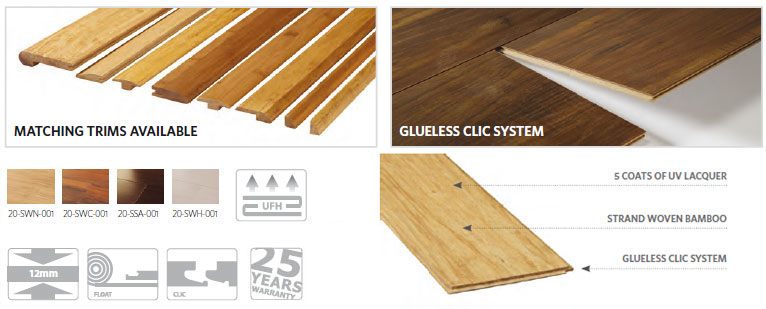 Style Bamboo Trims & Click System
Examples of Installed Bamboo Flooring
Need a Floor Installing?
If your considering having a new wood floor installed in your home, be it a bamboo floor or any other in or around the area of Edinburgh & Glasgow why not consider taking the hassle out of fitting it yourself with our flooring installation service...
Any Questions?
SImply fill out our contact form here or Call Us Free On: 0800 756 6862
Browse More Flooring Options...
Wood Pecker Floors
Quick Step Floors