ECOFLEX Underfloor Heating Cables
Overview
The versatile electric underfloor heating solution for tile and stone floors.

Description
ECOFLEX underfloor heating cables provide an underfloor heating solution in your kitchen, bathroom or conservatory. The cables can be fitted on top of existing wooden or concrete floors that are sound and suitably prepared.
ECOFLEX cables are ideal for smaller installations or in rooms with an irregular layout. The flexibility of the loose cabling system makes it possible to heat the maximum floor area including hard to reach areas.
FEATURES
Small diameter cable
Available as a separate loose cable or a complete solution in a convenient package
ECOFLEX can be installed under many floor coverings including ceramic tiles, natural stone and slate
Twin conductor ultra flexible cable simplifies installation with only a single "cold tail" connection
Two extremely tough, durable insulation layers which minimises the risk of damage during the installation process and ensures prolonged cable life
Approved to IEC 60800
TECHNICAL DETAILS
Maximum Power Loading - 10W/lin metre
Diameter - 3.3-4.3mm for cable drums and less than 3mm for cable kits
230V supply
Twin conductor cable
1 x 3m cold tail connection lead
Cable Choices
LOOSE CABLE OPTION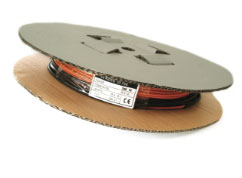 ECOFLEX underfloor heating cables are available as a loose cable only option for installation by professional installers. Each cable is packaged on a convenient cardboard cable drum and heat sealed for protection. Minimum packaging provides an economical and environmentally friendly solution for the professional installer. Thermostats and fixing/ installation accessories are available as optional extras.
CABLE KIT OPTION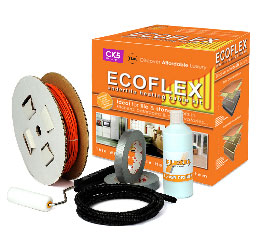 ECOFLEX cable kits come complete with: heating cable, floor primer, adhesive fixing tape and comprehensive fitting instructions. Required accessories such as a thermostat and floor insulation are available separately.
Thought about installing underfloor heating?
We can save you the hassle...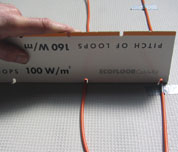 Installation Service
You may also like...