ECOFLOOR Underfloor Heating Mat
Overview
The quick and simple to install solution for all tile & stone floors.

Description
ECOFLOOR Underfloor Heating Mats are a combination of a heating cable attached to a fibreglass mesh scrim that makes installation easy. The mat can simply be rolled out onto the floor saving precious time. The mats have double sided tape on the underside so they can easily be fixed to any clean surface.
ECOFLOOR Underfloor Heating Mats have a twin conductor cable simplifying installation with a single 3m "cold tail" connection. Available in 2 standard power dissipations: 150 Watts/mē mats are suitable for internal applications including kitchens and bathrooms & 200 Watts/mē mats are available for conservatory use or areas where high heat losses can occur.
FEATURES
Approved to EN60335-2-96 as required by the 17th Edition Wiring Regulations (BS7671:2008)
Two heat outputs - 150W/m2 and 200W/m2
Quick installation - Simply roll out the mat & fix to the floor
Suitable for tile, stone, slate and marble floor finishes
Continuous metallic earth screen to ensure electrical safety
Low build height - Minimal floor height build up
Suitable for use in wet areas
EMC Safe
TECHNICAL DETAILS
Max Power Loading - 150W/m2 or 200W/m2
Diameter - 3.0mm - 4.0mm
230V supply
Twin conductor heating cable with single 3m "cold tail" connection lead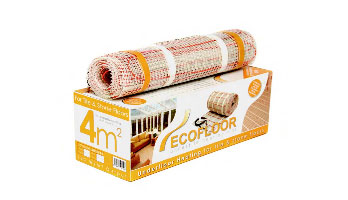 Thought about installing underfloor heating?
We can save you the hassle...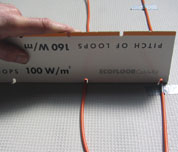 Installation Service
You may also like...